Owen Woodhouse Memorial Lecture - Wellington
Mon 10 Sep 2018, 06:00 pm
Mon 10 Sep 2018, 07:00 pm
Lecture Theatre 1 - Old Government Building
Victoria University of Wellington Law Campus
Pipitea
Issues Activity, Social Issues Event, Achievements Celebrations, Health Wellness
Wheelchair access, Accessible toilets, Mobility parking
Victoria University of Wellington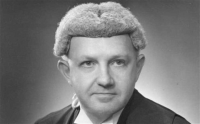 The annual Sir Owen Woodhouse Memorial lecture is being held at Victoria University on September 10th at 6pm. This year's lecture will be given by Sir Geoffrey Palmer.
This event takes place to remember the work undertaken by Sir Owen Woodhouse and his contribution to accident compensation in New Zealand.
ACC Futures recognises the influence that Sir Owen Woodhouse has had on the ACC scheme. His December 1967 report of the Royal Commission of inquiry into Compensation for Personal Injury in New Zealand (also known as the 'Woodhouse Report') sets out the principles that should govern compensation of personal injury in New Zealand.
The principles he identified, including community responsibility; comprehensive entitlement; complete rehabilitation; real compensation; and administrative efficiency still hold true today and provide the basis for ACC Futures policy reform.
ACC Futures would recommend that its members attend the lecture and acknowledge Sir Woodhouse's significant influence on accident compensation and social policy in New Zealand.
Please RSVP to law-events@vuw.ac.nz.